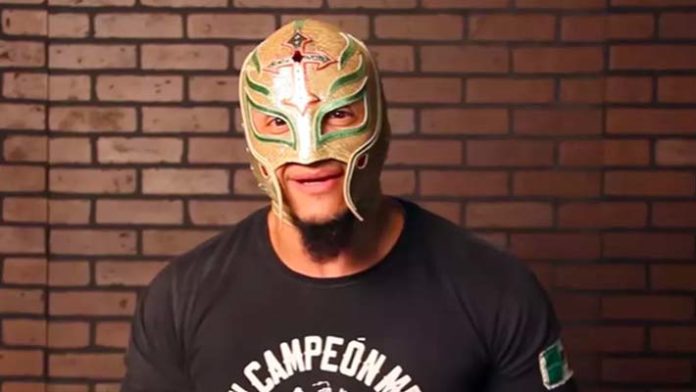 Pro wrestling veteran Rey Mysterio is known for his high-flying and daring moves inside the squared circle, but fans will have to wait a bit longer to see him back in action, as the luchador legend is on the mend following knee surgery. Nick Hausman of Haus of Wrestling reported that Mysterio is estimated to be out of WWE for a recovery period spanning anywhere from six to eight weeks. Prior to going under the knife, Mysterio had been competing with a torn meniscus for about three months, showcasing the resilience and passion that has made him a fan favorite for decades.
The timing of Mysterio's surgery coincides intriguingly with his recent WWE storyline. Fans witnessed Mysterio fall victim to an assault by Santos Escobar, setting the stage for a potential narrative that could unfold upon his return. Mike Johnson of PWInsider, injecting some insider knowledge into the speculation frenzy, has confirmed that WWE's creative branch had the heel turn for Escobar carved out in advance. The unfortunate timing of Mysterio's surgery did not push forward or alter these plans; rather, it was a fortuitous coincidence that lent itself to the story's progression.
In related news, World Wrestling Entertainment (WWE) seems to have smoothly settled a dispute with Panini following a breach of contract claim. The issue, which led to a legal tussle with Panini filing a suit against WWE, appears to be on the brink of resolution. Legal expert Paul Lesko took to Twitter to divulge that WWE CEO Nick Khan, along with Panini's top brass, participated in a meeting in mid-November. Lesko revealed that the discussions have led to an "agreement in principle" and that documentation of this agreement is currently underway. This news, likely a relief to all involved parties, indicates that the courtroom drama may soon be averted.
Shifting gears, Logan Paul, a name that's become more prominent in the pro wrestling sphere, shared his perspective on a critical moment at WWE's Crown Jewel 2023 event. In an episode of the Impaulsive podcast, Paul candidly discussed his involvement in a risky moonsault spot with Rey Mysterio during their bout. While social media and fans exploded with accolades, claiming Paul saved Mysterio's life, the influencer-turned-wrestler offered a more nuanced take. Acknowledging a miscalculation on both their parts, Paul admits he could have been positioned better, and that Mysterio didn't quite get the distance needed for the stunt.
Paul reflected on his instincts kicking in to make the last-second save, ensuring Mysterio wasn't injured—which could have added to the masked wrestler's recent woes. While thankful for the praise, Paul humbly chalked it up to fulfilling his role in the ring, even as his own compromised knees risked injury. His openness in dissecting the moment exemplifies the challenging blend of athleticism and performance that defines professional wrestling today.
As Rey Mysterio recovers, WWE continues to thread narrative tapestries, and stars like Logan Paul adapt to the wrestling world, the industry's multifaceted nature becomes ever clearer. Stay tuned as we follow the recovery of one of its most celebrated high-flyers and the unfolding stories that captivate the WWE Universe.
Be sure to join our
WWE / AEW Discord server
and connect with other pro wrestling fans.
---