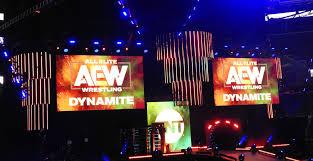 Wednesday's episode of AEW Dynamite will be a special Batman-themed show. Newsarama is reporting that All Elite Wrestling will take part in TNT's Batweek.
The week fans will see all the modern Batman films to air in a marathon on TNT. Also included in the movie marathon are Wonder Woman and Suicide Squad.
TNT promised that "some BatWeek festivities" will be a part of All Elite Wrestlings Dynamite. This cross over event is not the first time there was a tie-in with Warner Media, which includes Cartoon Network, Adult Swim, and DC Comics. Dynamite had a tie-in with Adult Swim's Rick and Morty on a previous episode.
One of the AEW stars will likely dress up as Batman on the show for sure.
A WWE Hall of Famer DDP is slated to appear on AEW Dynamite this week.
Programing schedule on TNT this week:
November 25th
8:00 PM ET/PT – Batman v Superman: Dawn of Justice
11:15 PM ET/PT – Batman (1989)
November 26th
8:00 PM ET/PT – Batman Begins
10:45 PM ET/PT – Batman Returns
November 27th
5:30 PM ET/PT – Batman Returns
8:00 PM ET/PT – AEW Dynamite
10:00 PM ET/PT – The Lego Batman Movie
November 28th
12:00 p.m.-8:00 PM ET/PT – Thanksgiving Movie Marathon
8:00 PM ET/PT – The Dark Knight
11:30 PM ET/PT – Batman & Robin
November 29th
12 p.m.-8:00 PM ET/PT – Day After Thanksgiving Day Movie Marathon
8:00 PM ET/PT – Wonder Woman
11:00 PM ET/PT – Batman Forever
November 30th
12:30 PM ET/PT – Batman & Robin
3:00 PM ET/PT – Batman Returns
5:30 PM ET/PT – Batman Forever
8:00 PM ET/PT – Batman (1989)
10:45 PM ET/PT – The Dark Knight
December 1st
10:00 a.m. ET/PT – Batman Begins
1:00 PM ET/PT –The Dark Knight
4:30 PM ET/PT – The Dark Knight Rises
8:00 PM ET/PT – Suicide Squad
10:30 PM ET/PT – Suicide Squad

Lance Archer Out, Test Positive For COVID-19, Main Event Changed