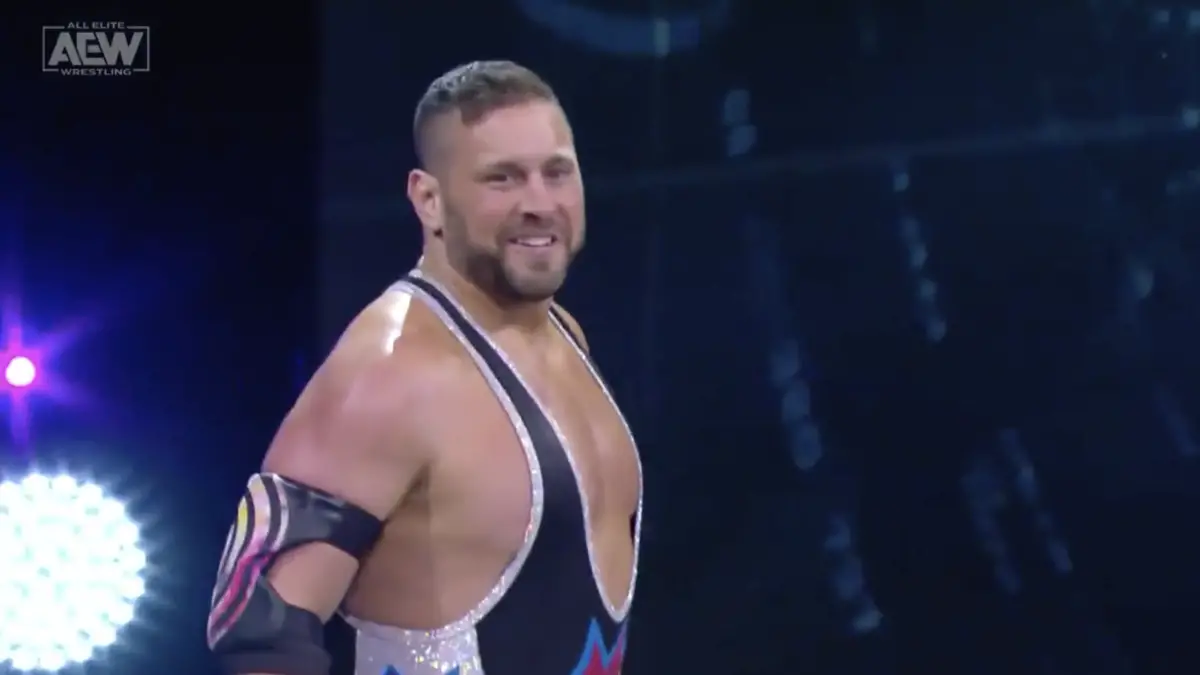 This week's guest on "AEW Unrestricted" with Aubrey Edwards and Tony Schiavone was Colt Cabana. He talks about his stint in WWE, working the indy's, how his podcast started, working for Tony Khan, The Dark Order, and more.
His experience In WWE
 "I did really well in OVW and never got called up. Everyone moved to Florida. I did really well in Florida and I never got called up. I remember Dusty Rhodes saying, you don't need to be in the system. You are here. There is no reason for you to be here, but it is what it is. I think that came to a point for a lot of us. That's when I got moved up and a lot of us got moved up. It's like they don't need to be down there so let's just give them a couple weeks and see if they work up there.
Why Vince McMahon Named Him Scotty Goldman
"So, I tried to show up and be Colt Cabana. My name was quickly changed. At that point, they were changing a lot of people's names. I got a couple stories of where Goldman (his ring name in WWE) came from. I heard Vince was like, is he really Jewish? They were like, yea, I guess. All right, Goldman. I don't know why Scotty. Scotty Goldman appeared losing his debut match to Brian Kendrick in under 2 minutes as a platform for Brian Kendrick to move into a match against Triple H I think. That was the spot I was given. Maybe other people will succeed in that manner, who knows?
Where He Learned Merchandising As Part Of The Wrestling Business
"An old AWA named Johnny Stewart who I would watch at the merchandise table. He wrestled in some of the later days of the ESPN AWA days. I watched him schmooze at the gimmick table. I knew there was some way to do it. When I came back to the independents, that was a big part of my thing. The number of wrestlers at tables selling gimmicks was me, Chris Hero, Claudio Castagnoli who is now Cesaro, Matt Cross, and maybe Jimmy Jacobs but they were very few and far between. It's funny because now if you go to the independent shows and you are not selling anything, they are ripping on you.
How He Expanded The Merch Module For Wrestlers Today
"I wanted to take that idea and make it even bigger. The podcast was the ultimate commercial to tell people to buy stuff from me or have them support me in some way. I was getting popular with the podcast and being on the road 200 days a year as an independent wrestler.
I would go to these shows and these meet and greets, aka, stand in my line at the merch stand and I would say there are all these people here, but there are people who live in Montana and Idaho who can't get to these independent shows. How can we get this stuff to them? That's when I put all my stuff online.
Of course, I had my stuff online on Myspace. They had an option for PayPal back in 2006 or whatever it was, but Facebook did not have an option for a PayPal button, so I started my own website so I could sell my own stuff so I could put a PayPal button on. I joined the process of shipping and packing it myself. Obviously that moved into a bigger picture and bigger idea of not only doing it for myself, but doing it for literally everybody with Pro Wrestling Tees"

Former WWE Star Rusev (Miro) Debuts On AEW Dynamite