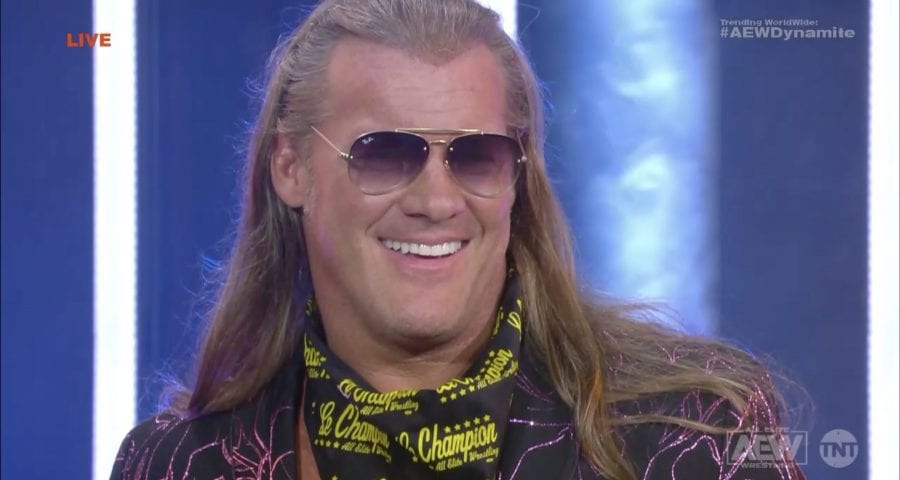 Top AEW Star "Le Champion" Chris Jericho recently took to his Talk Is Jericho podcast, and discussed with his long-time friend, who is also an active member of the AEW roster Luther a number of topics, which includes Luther signing with AEW shortly after the world was affected by COVID-19.
This is what Luther said:
"I signed the contract." "It's ironic that 'The Original Death Dealer' signs the contract right when the plague starts. It was crazy, but I wouldn't expect anything less in everything that I've done in my life."
Jericho then talked about AEW looking for a leader for The Dark Order and IMPACT Wrestling Star James Mitchell being one of those talents considered for the role. Chris Jericho also talked about Luther being considered for the role as well and Callis and himself trying to get Luther on IMPACT Wrestling.
This is what Chris Jericho said:
"So The Dark Order was looking for a leader. They were thinking about using a couple different guys." "I know Jim Mitchell was one of the guys mentioned. Our whole concept at AEW is trying to create new talent and new stars, and I said if you're looking for a guy that can play a weird character because the word about you is your chameleon, you can play anything, I've got the guy."
"I never started at AEW thinking I'm gonna get my friends in here, but to me it's like this is the perfect guy. Don and I had talked about you doing something for Impact for a while, but then you hurt your triceps. Don runs that company, and listen, I don't run anything in AEW, but I'm like if you're looking for a guy, I have this guy. Then they said, OK, we'll send in some tapes, videos or whatever."
Luther then talked about recording a bunch of audition tapes and sending three of them to AEW and mixing a number of characters because he doesn't like to copy one person.
This is what Luther said:
"I recorded a bunch." "I remember I sent them one, and you said they liked it. I sent in another. They liked it. So I sent three audition tapes in. You sort of describe the group as best as you can. I was just thinking about what my angle would be on that."
"I watched and listened to a few different cult things online. I don't like to copy one person. I like to pick different things from different people and make it my own. One of the audition tapes I did more of a Father Dante just yelling like preaching wise. You're like, 'let's humble it down a little bit.' Jake The Snake, that's kind of a good role model in his delivery which is always spot on."
Jericho then talked about showing Luther's audition tapes to Tony Khan and Cody Rhodes, but Luther eventually ending up being a part of Brandi Rhodes' Nightmare Collective. Chris Jericho also talked about Marty Scurll and "Broken" Matt Hardy being considered for the role of the leader of The Dark Order as well before Brodie Lee was ultimately revealed to be The Exalted One.
This is what Chris Jericho said:
"The Dark Order was kind of Nick and Matt's thing, and I was thinking more, well, let me just show it to Tony and Cody." "Tony's the boss, right? Cody's like, 'I like his delivery. He's got this cadence of Jake Roberts.' Then they said, well, let's bring him in for basically a screen test. This was before Christmas."
"I think what Cody was thinking was Brandi was gonna do the Nightmare Collective. I think the original plan was to have Marty Scurll as leader of The Dark Order. Then they wanted Matt Hardy, which then, of course, morphed into Luke Harper (Brodie Lee). So I think you were out of the equation because they had other guys in mind."
You can check out Chris Jericho and Luther's comments in the embedded audio player below:

AEW & NXT TV RATINGS: Dynamite Finishes 31st, NXT 70th, January 13th, 2021