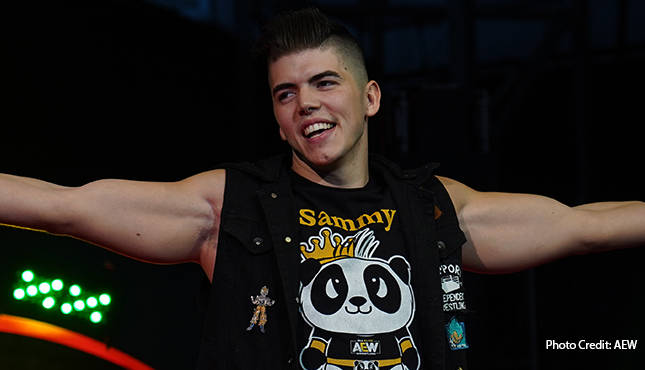 As previously reported, AEW Star Sammy Guevara has put himself in "hot water" with AEW top officials, specifically AEW President Tony Khan, after removing himself from an angle with IMPACT, an angle that was already planned and set in stone.
The story goes that after Sammy Guevara left the Inner Circle stable on a recent episode of Dynamite, Chris Jericho proposed an idea that would have seen Guevara appear on IMPACT Wrestling, and Tony Khan and IMPACT Wrestling officials didn't waste any time as they immediately worked on possible plans and storylines. Tony Khan then contacted IMPACT Wrestling officials about an idea to include Guevara in a storyline and after a couple of suggestions, the green light was given and the angle was set.
However, the day before the storyline was supposed to take place, Guevara did not go to Nashville and rescheduled himself to arrive in Nashville just a few hours before the tapings would begin. PWInsider also reported that Sammy Guevara directly made contact to IMPACT Wrestling officials via text message to voice his concerns about the planned creative direction and informing them about alternative ideas and not wanting to do what was agreed between AEW and IMPACT officials.
IMPACT Wrestling officials then contacted Khan and Jericho, with Jericho advising IMPACT Wrestling to ban Guevara from ever appearing on their show. IMPACT officials then canceled Guevara off the tapings and Jericho reportedly informed Guevara to not bother showing up and to return home. IMPACT officials then reportedly decided to give the role originally intended for Sammy Guevara to Black Taurus.
In an update, Dave Meltzer noted on a recent edition of the Wrestling Observer Newsletter that IMPACT Wrestling officials were "really mad" about AEW sending their talents over to the company, with plans and ideas for a storyline already in place, and then the talent wouldn't do what was planned. Meltzer also noted that Guevara isn't expected to return to IMPACT Wrestling anymore as Guevara was scheduled to be part of a Six-Man Tag Team Match next week on IMPACT, where the winning team would move on to a Three-Way Match for TJP's X-Division Championship.
F4WOnline.com reports that Guevara was set to team with Chris Bey and Ace Austin to face Trey Miguel, Josh Alexander and Willie Mack, but Ace Austin and Chris Bey will now team with Black Taurus instead. Guevara then reportedly suggested that he would win the X-Division Championship and bring it with him to AEW Dynamite. The idea was also to see Guevara never lose the championship, but rather he would've been stripped of the title, with it being put up for grabs in a tournament featuring IMPACT Stars.
It was also mentioned that Sammy Guevara was scheduled to win three matches at the IMPACT tapings AEW booked him in. AEW Executive Vice President Jericho and IMPACT Co-Executive Vice President Don Callis was reportedly behind the initial angle of Guevara being booked in IMPACT, but whatever happened with Guevara and IMPACT also made them look bad. Guevara was only scheduled for the IMPACT TV tapings that ran from February 9th through February 11th.
It was then reported that everything appears to be perfectly fine at this point, but there are people in IMPACT who said that the company was not happy at first with how everything went down, and that it could have impacted their relationship. There is no word yet on what else is planned in the future of AEW and IMPACT's working relationship and if any other future storyline plans were affected, but word is that Guevara will no longer be involved. Updates will be provided once it has been made available.
Be sure to join our
WWE / AEW Discord server
and connect with other pro wrestling fans.
---