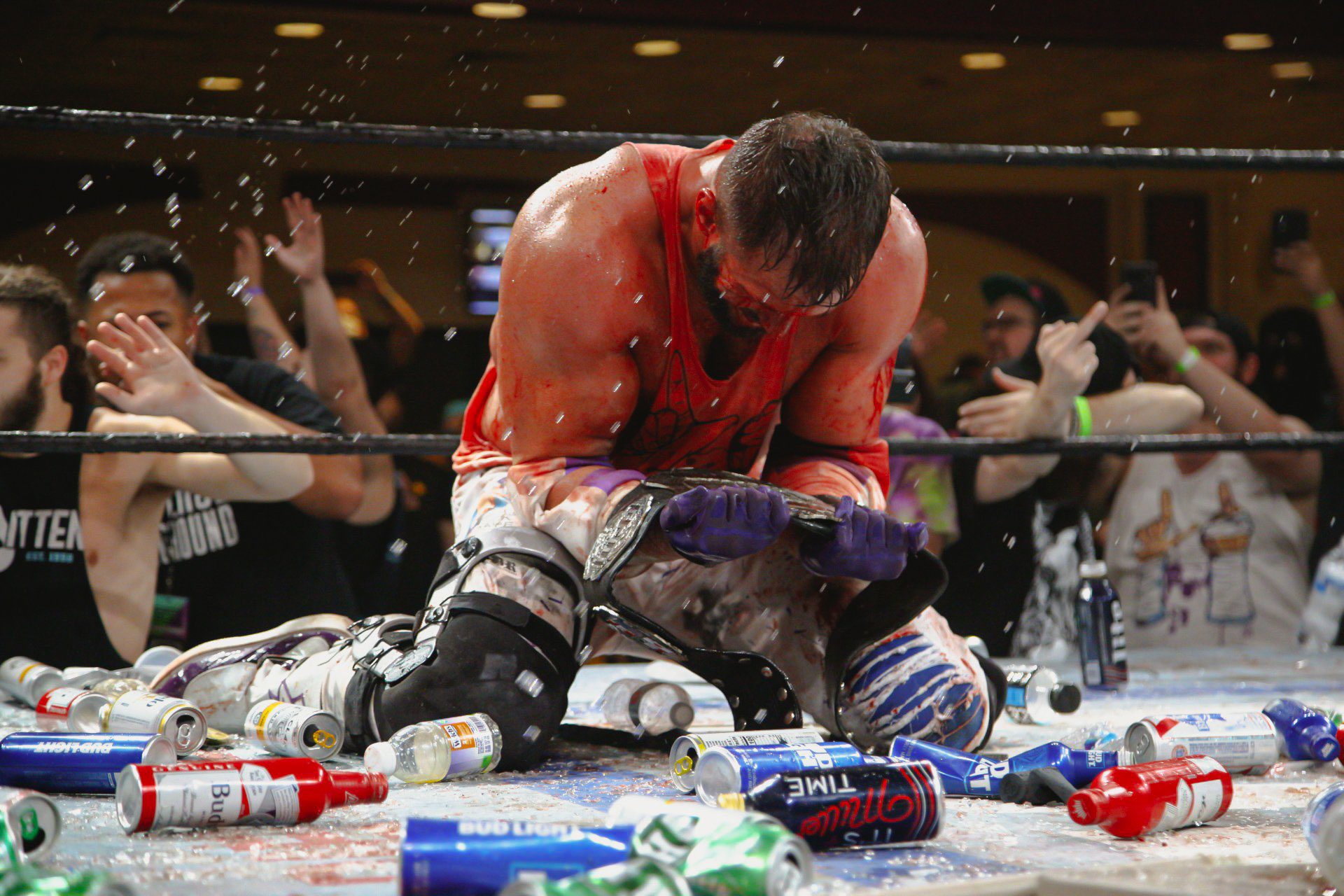 Matt Cardona captured the GCW Championship as was reported by webisjericho.com, in what is being perceived as the biggest fan reaction in a long while to be seen in the professional wrestling industry. The reaction—extremely violent in nature—had fans throwing objects into the ring and at Cardona, as he celebrated his win, or rather tried to.
A tantalizing feud on the Indy circuit
The world of professional wrestling has been thrown into quite the stir in recent months and the reason isn't because of anything happening at any major company like AEW or WWE. Believe it or not, the buzz has been garnered because of the feud between none other than Matt Cardona and Nick Gage.
The two have been going at each other on social media and the feud built between them has certainly gotten a lot of fans excited since Cardona first showed up. It was at a GCW event on June 6th, yet at the beginning only appeared as a hooded figure, walking and acting with mannerisms very reminiscent of one Jon Moxley. This was after a match featuring Gage and Jimmy Lloyd.
Moxley and Gage had also been previously going back and forth, which was why it made sense that Mox would come to the event, but after a well executed DDT, the hood came off, everyone realizing that it was Cardona all along.
This feud has continued to develop, Gage interrupting a live podcast of Cardona's…all unfolding on social media to quite a wee bit of noise.
Game Changer Wrestling (GCW) a definitely appropriate name.
It was at the GCW event held this past Saturday (24th of July) that they faced each other, the match getting more and more violent as the minutes passed. The end result saw Cardona's hand raised, holding the GCW title, which so happens to also mark the first time he has held a world championship title in any pro wrestling company or promotion.
Too much?
The crowd reaction has come under fire, its most critical comments coming from Dave Meltzer—understandably; his point is extremely valid— of The Wresting Observer, who felt as though it was "embarrassing…"
There are those that felt it was in fact appropriate, however, some feeling that it was a reaction that hasn't been seen in a while.
It must be said, though that the crowd reaction was dangerous, reportedly one fan even throwing a pizza cutter into the ring and at Cardona. Perhaps it was a bit much.
Crowd interest, and heat, as is said in the industry, is important and there is no doubt that this event will bring a lot of attention to GCW, Cardona, who's been doing great things since being released form WWE, and Nick Gage. But the question certainly remains: was this too much?
A build for the ages
The buildup was amazing and very reminiscent of Hogan and Rougeau when Hogan in WCW (1997), feuded with Jacques Rougeau; Hogan even willing to lose the match, allowing Rougeau to go over in his hometown of Montreal, Quebec.
Rougeau and Hogan interestingly butted heads at a press conference leading into the event. The press in Quebec ate it up; the press actually covering it as though it was a real fight, so essentially heat was established, and big time.
"Where do you get off on telling people you are the Hulk Hogan of Quebec?" –Hulk Hogan

via Pearl Wize/YouTube
But the past is the past and this is now, and Cardona and Gage were able to establish this same level of heat on a much smaller stage.
The fact that these two were going at each other on social media in the vein of Rock vs. Cena spoke volumes in what was to be expected and the hype was definitely built effectively. When it came to its climactic end, or this current point in the feud, tension and emotions were high and not just for the two wrestlers in the ring.
A game changer to the wrestling industry for sure. Gage is set to face Jericho in Jericho's second labor on AEW Dynamite…and the GCW event certainly does a good job of hyping even that.
Valid points across the board
All sides to a coin shine when that coin is first pressed, but only as we delve deeper do we start to see its imperfections if any are there. The weight that this incident poses on the wrestling industry is still to be seen and felt.
Overall, any reaction is positive, but not at the detriment of the wrestlers or anyone in the crowd. Truthfully, someone could have lost an eye to that pizza cuter.
The scene that unfolded was violent—understatement of the century, I apologize—but the internet has been ablaze with this story since Saturday and for obvious reason.
Who knows where they'll go next and if they'll find a way to manage the crowd better, if that's in the company's plans at all. It all remains to be seen, but for now, it's the hottest thing in the biz. Go figure.
Get the latest
pro wrestling news
from the WWE to AEW.
---