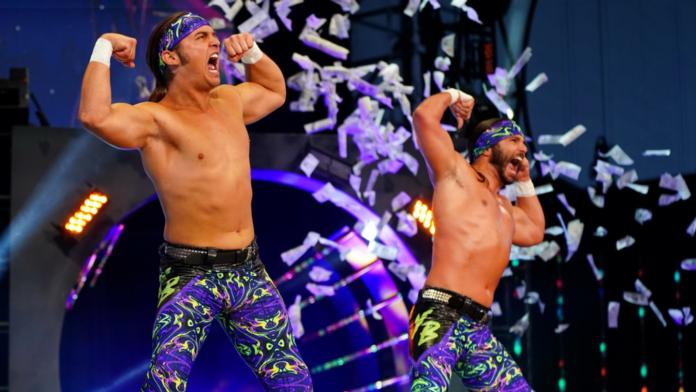 Matt Jackson is one of the most successful tag team wrestler in the world as he has captured a number of World Tag Team Titles with his brother, Nick Jackson, in several different pro wrestling companies around the world such as ROH, NJPW and most recently, All Elite Wrestling.
Together with his numerous successes comes heart-breaking injuries as well. Matt recently appeared as a guest on Wrestling Inc's Daily podcast, where he provided an update on his latest injury.
Matt Jackson said that AEW is just taking precautionary measures, but all things considered, he feels good. Matt Jackson also said that this is probably the best he's felt since he got injured.
Matt also said that it was just the medical team kind of stepping in and doing what is needed to be done and to make sure of his health and safety. Matt Jackson then said that he's not even that sore and that he's ready to keep going.
This is what Matt Jackson said:
"I think we're just taking precautionary measures." "I feel good all things considered. This is probably the best I've felt since I got injured whenever it was. I believe I got the MRI late August. Last night man, I felt great. I think we just came off a really tough match. We went 30 minutes. It was brutal."
"I think that was just the medical team kind of stepping in going, 'Hey guys, that match was three days ago. Let's ease into this,' and sometimes that's good because they have to protect us from ourselves because if it was my choice, I'd be wrestling 30 minutes every single day [and] having matches like that every day. We're a big investment to this company, and we have to be able to go out there and perform matches like we did last night."
"People are counting on us. So I'm appreciative of it. I'm glad people stepped, but I feel wonderful, especially being in there last night with a 19 and 21 year old. I'm 35 now, and I'm still able to do that style, and I feel good doing it. All things considered, even this morning, I'm not even that sore. I'm ready to keep going."
Matt then talked about the Young Bucks' recent match against Top Flight and compared it to their time in TNA when they were debuting against the Motor City Machine Guns as now the roles have switched and Top Flight is debuting, so it felt good to kind of relive that in, and Top Flight killed it.
This is what Matt Jackson said:
"You're right, and Nick made this mention yesterday. It felt like ten years ago back when we were TNA, and we were making our big TV debut against the Motor City Machine Guns, but we swapped positions." "And now we were in the Motor City Machine Guns role, and then these guys are the new Young Bucks. So it felt good to kind of relive that in, and they killed it."
Nick Jackson then shared his thoughts on why they decided now was the right time to write their first autobiography.
This is what Nick Jackson said:
"Matt and I joke about it. We think the timing was actually terrible because of how busy our our schedules have been, and it was pretty much when we were creating AEW, so it was almost impossible, but we found time in weird ways." "Matt likes to say, when he was dropping his kids off at school or waiting for them to be picked up, he'd be writing a chapter, or we'd be on the airplane writing, and the funny thing is we did it all on our phones.
"So that probably made it even harder. Like Matt always says, it was a labor of love, but we had to do it, and we weren't going to turn something down like this when Harper Collins calls us and asks us if we want to write a memoir. And just getting that off, we were flattered, and we're like, hey, we can't turn this thing down."
You can check out Matt and Nick Jackson's comments in the video below:
Be sure to join our
WWE / AEW Discord server
and connect with other pro wrestling fans.
---