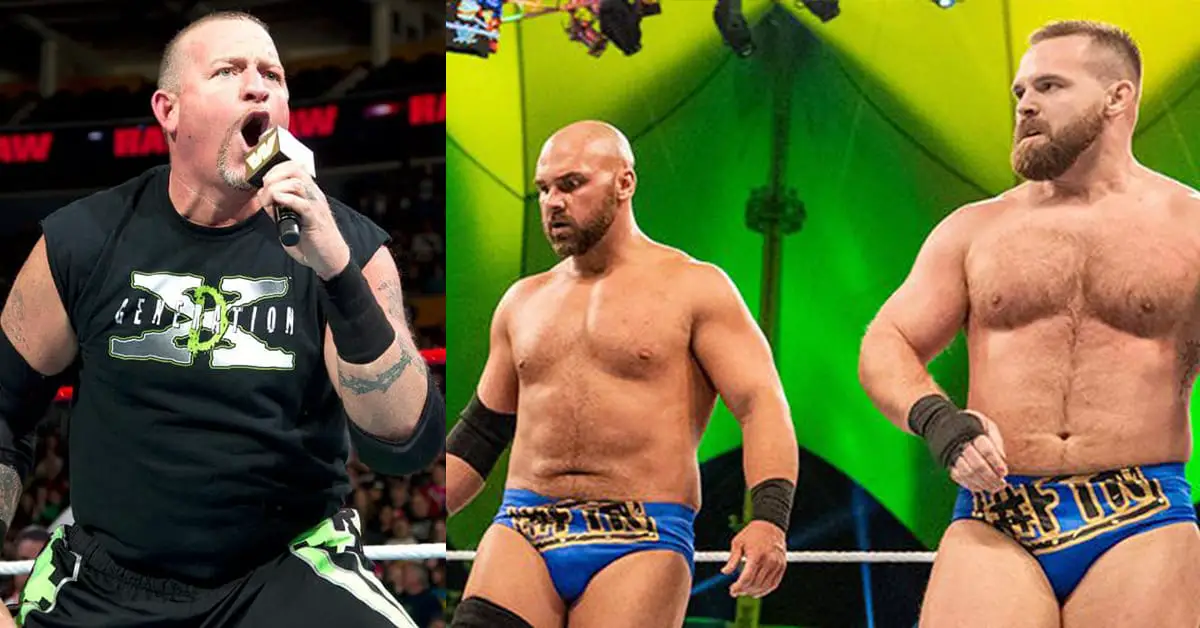 Top AEW Star and one-half of FTR, Dax Harwood, recently took to Twitter to wish WWE Hall of Famer "The Heart Break Kid" Shawn Michaels a happy birthday.
He then would suddenly take a shot at Michaels by saying the words
"the greatest wrestler to ever lace up a pair" of wrestling boots,"
but instead of The Heart Break Kid being the one referred to by Dax Harwood, he would post a photo of WWE Hall of Famer Bret "The Hitman" Hart.
That would then prompt former WWE Superstar Rusev, who now calls himself Miro, to take to Twitter himself and ask Harwood why he didn't tag anyone in the pic. Which would then see WWE Hall of Famer Brian James (A.K.A Road Dogg) take to Twitter as well and say that he has "no guts."
This Twitter war would then escalate when the other half of FTR, Cash Wheeler, would join the conversation and say that Road Dogg is the one with no guts while also suggesting that he talks behind talent's back and tries to bury them when they have a disagreement.
Brian James would take to Twitter once again and mention that he thought they were cool and they were just ribbing and that he didn't realize one of them was being serious.
You can check out all the tweets below:
It's Shawn Michaels' Birthday. Here's a picture of the greatest wrestler to ever lace up a pair of wrestling boots. pic.twitter.com/5oObIXpXoZ

— Dax FTR (@DaxHarwood) July 22, 2020
---
No @ ?? https://t.co/WfYSLwEBPP

— Miro (@ToBeMiro) July 22, 2020
---
No guts! Be well Miro!! God bless you dude

— Brian G. James (@WWERoadDogg) July 23, 2020
---
Yeah man, we're the ones with no guts. Definitely not you. Be well! https://t.co/FyX5atjDuM

— CASH (@CashWheelerFTR) July 24, 2020
---
Definitely not.

— Brian G. James (@WWERoadDogg) July 24, 2020
---
Definitely a good guy that never talked shit about talent as soon as they'd walk away. And definitely wouldn't try to bury anyone that disagreed with him. Definitely. https://t.co/5SL96V0qZh

— CASH (@CashWheelerFTR) July 24, 2020
---
Wow, I thought we were cool, kinda just ribbing. I see one of us wasn't. My bad dude. Good luck to y'all

— Brian G. James (@WWERoadDogg) July 24, 2020