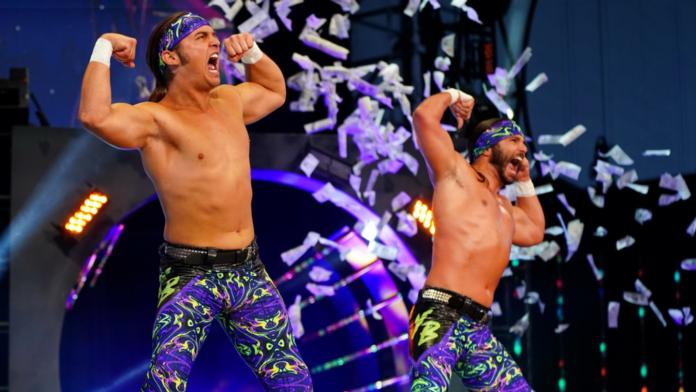 The Young Bucks (Matt Jackson and Nick Jackson) is one of the greatest and most successful tag teams in all of wrestling as they have captured a number of World Tag Team Titles in several different pro wrestling companies around the world such as ROH, NJPW, and most recently, All Elite Wrestling.
They have done almost everything and more in and out of the wrestling business, including starring in their own YouTube series called "Being The Elite" and writing a book titled "Young Bucks: Killing the Business from Backyards to the Big Leagues," which is now available in bookstores and online via this link.
The Young Bucks recently appeared as a guest on Busted Open Radio to promote their new book and speak about why they have a rep of killing the business, among other things. The Young Bucks also discussed trying to stand out.
Below are the highlights:
On why they have a rep of killing the business:
"That's a tough question to answer because a lot of wrestlers who know us personally say we are old school wrestlers. They say we definitely are not from this generation where we are killing it. But, for some reason, a lot of our critics have said that. I don't know why. Maybe because we don't care about getting the heat. We like to make fun of ourselves and the business sometimes.

Maybe that's why. We broke the unwritten rules of wrestling. You are only supposed to do a few high spots per in the match. What do we do? We start off with 20 superkicks. Hey, the superkick is a finisher. What are you doing? No. For us, it's just a fun move we do 12 times a match. These are the unspoken rules of wrestling you don't break. When you do those things, people say you are going to kill the business.

I think that's where the phrase was coined by the critics who said we were doing too many high spots and doing all the things you're not supposed to do. But for whatever reason, it works for us when it was never supposed to work."
On trying to stand out:
"When we were coming up in the early 2000s, the independents became the short, pleather looking guy with the kick pads and short hair. Our favorite wrestlers were the Rockers and The Hardy's and they had long hair. We said, why don't we have long hair and wear neon because nobody does this anymore.

Kids started popping up saying who are these guys because we didn't look like anybody. Everybody at the time in the Ring of Honor era, everybody would open with 20 minutes of chain wrestling. We were like, ok, let's not do any of that. Let's just go right to the spots. We would start off with a bang and we made that the style on the independents. Bang, bang, bang, let's just go. Now it's weird because everybody does the high-spot style now.

So now Nick and I are at this point in our career that do we now need to change again and try to evolve the business in a different way? The struggle is to constantly evolve and make ourselves different."
Be sure to join our
WWE / AEW Discord server
and connect with other pro wrestling fans.
---