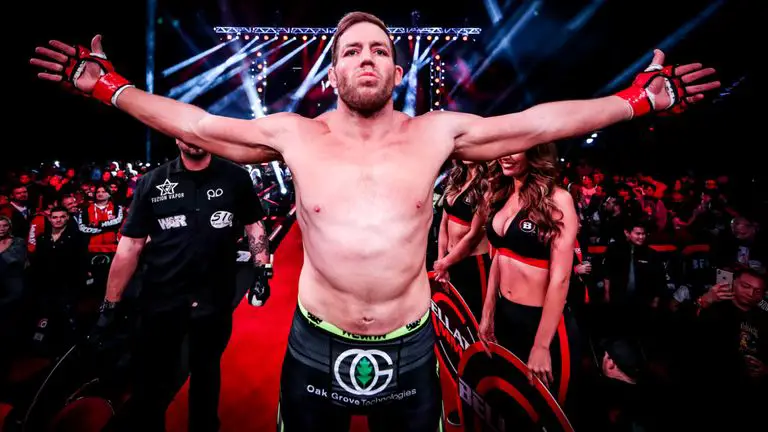 It was 26 years ago this February that Dan Severn won the NWA World Heavyweight Championship at a Smoky Mountain Wrestling house show. "The Beast" was arguably better known at the time for taking part in the early UFC tournaments inside the octagon than his exploits within the squared circle.
Few could have known at the time that this would begin a trend of MMA shoot fighters crossing over into pro wrestling, which has continued to this very day. Severn's run as NWA world champ lasted four years (1995-99) after a lineage of grappling greats including Lou Thesz, Buddy Rogers, Harley Race, and Ric Flair. The trail Severn blazed is one that many others would follow.
The Beast's UFC contemporary and long-time rival Ken Shamrock was a staple of the WWE's Attitude Era. Armed with his ankle lock submission, Shamrock won the 1998 King of the Ring tournament. He had beaten three subsequent Hall of Famers in Kama Mustafa (best known as The Godfather), Mark Henry, and Jeff Jarrett before making Dwayne The Rock Johnson tap out in the final.
Shamrock, nicknamed "The World's Most Dangerous Man", went on an unsuccessful challenge for the WWE Championship, but did have reigns with the Intercontinental and Tag Team titles. He also followed in Severn's footsteps by capturing the NWA World Heavyweight Championship when TNA (now Impact Wrestling) first opened in 2002.
Lesnar Takes Crossover Success to New Levels
Around the same time as Shamrock won that belt, WWE was pushing an up-and-coming talent recruited from the NCAA collegiate amateur wrestling scene called Brock Lesnar. "The Beast Incarnate", then billed as "The Next Big Thing", won the King of the Ring in 2002 earning a world title shot.
Lesnar captured his first WWE Championship at SummerSlam 2002 with The Rock again doing the honors on a major pay-per-view. Unlike Severn and Shamrock before him, however, he would make his name in pro wrestling first and then later transition over to MMA.
In the intervening years, the UFC grew in size and scope. What started out as tournament cage fighting in the days when Severn and Shamrock squared off inside the octagon had now changed into divisions of weight classes.
Just as Lesnar made a rapid rise through the ranks of WWE, he did likewise in MMA. He won the UFC Heavyweight Championship in his fourth pro fight defeating Randy Couture in the fall of 2008 and spent two years on top of the promotion.
Lesnar lost the belt to Cain Velasquez. That past history between them would later form the basis of a storyline for a pro wrestling rematch at WWE's Crown Jewel event in Saudi Arabia nine years later.
Velasquez's own crossover hasn't been quite so successful. Although he did debut at Mexican Lucha libre promotion AAA's major show, TripleMania XXVII, before reigniting his feud with Lesnar in a losing effort. Transitioning between MMA and pro wrestling isn't just something men have done, either.
Women's Revolution in Both Codes
Ronda Rousey already opened up new frontiers in MMA, making UFC president Dana White create a women's division upon signing her. After spearheading this division, she went on to wrestle for WWE, embracing the nickname and look of the legendary Rowdy Roddy Piper.
Rousey continued to make history by headlining WrestleMania 35 alongside Becky Lynch and Charlotte Flair. Shayna Baszler is another female MMA fighter who has crossed over into pro wrestling that has received pushes into WWE.
It has also been reported that another former UFC women's champion Cris Cyborg would be interested in wrestling sometime in the future. The avenue is one that many MMA fighters, regardless of gender, seem keen to keep open and potentially explore.
Speculation continues as to which UFC star will transition to pro wrestling next. The promotion's former bantamweight and flyweight champion, Henry Cejudo, made a cameo appearance at AEW's Double Or Nothing pay-per-view in May 2020. He hasn't ruled out crossing over, either.
There have been rumors over the years about Irish MMA fighter Conor McGregor getting more involved in wrestling. His recent loss to old rival Dustin Poirier at UFC 257 may give him pause to rethink his career.
As of February 3, McGregor is as big as 5.00 to be UFC lightweight champion by December 31, 2021. He's only the joint-third favorite to regain his old title.
"The Notorious" has stepped outside the octagon before of course when he competed against Floyd Mayweather inside a boxing ring in 2017. With McGregor open to such side ventures, it cannot be ruled out that he will try his hand at wrestling someday.
One thing's for sure. MMA fighters will continue to crossover from the octagon to pro wrestling. There have been more than enough to have successfully made the transition between the two disciplines.
Be sure to join our
WWE / AEW Discord server
and connect with other pro wrestling fans.
---