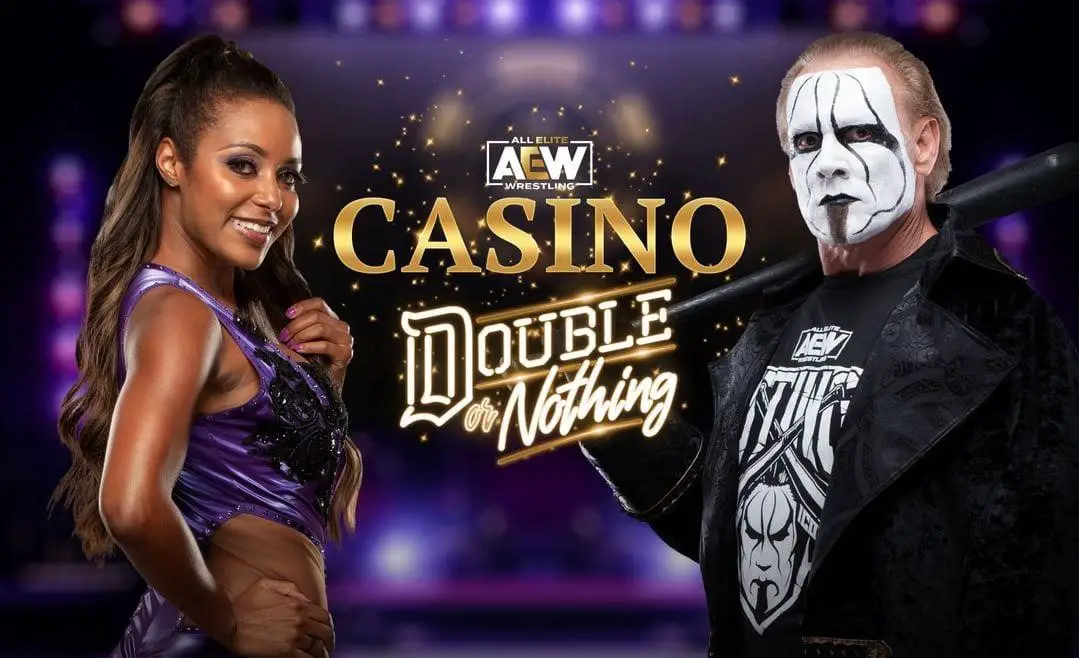 With many AEW fans also enjoying the thrills of gambling, KamaGames has developed a great option to please everyone. AEW Casino: Double or Nothing is a mobile title that offers branded casino games. Not only will players enjoy the great classic casino selections offered, but they are complemented with AEW sounds, videos, wrestler virtual avatars, and more!
This new title is now available on Android and iOS devices and is the first title available from AEW Games. Offering a great array of games to choose from, you will enjoy seeing your favorite AEW wrestlers while engaging in games like blackjack, slots, roulette, and more. This game does provide hours of entertainment and excitement.
If you are a fan of online casino selections and want some excitement, this title is a good choice. However, if you are seeking the ability to win the highest cash payouts, be sure to check out our reviews of the highest payout rate online casino. With AEW Casino, you will play only be able to play with virtual funds and will not win real money payouts. With our list of real money payout online casinos, you can find licensed and regulated sites where you can wager and win.
What to Expect with AEW Casino
When you download AEW Casino to your mobile device, you will be able to launch enjoyable casino games along with social interactions. There is a great in-game chat option to allow you to interact with other players. You can choose to play classics like blackjack and poker, but many players like the thrills of playing in weekly online tournaments.
With these events, you can win chips and trophies as you climb the leaderboard. There are various series of tournaments that can be enjoyed, and as many as 1,000 players can play. If you are not quite ready to compete with other players, you can choose to engage in standard play on supported titles and practice your social casino skills. This game also comes with a great tutorial that will teach new gamblers the rules of games while offering some great tips for winning.
You will find 10 games being offered, including:
Texas Poker
Slots
Blackjack
Roulette
Video Poker
Omaha Poker
Craps
Baccarat
Set Poker
In the next few months, you can expect new elements to be added that will provide wrestling fans with other ways to interact. Some of the features to expect include custom games, additional AEW wrestlers, and themed prizes.
If you are a fan of AEW wrestling and enjoy casino action, this title is a great option. It is the first of three AEW games planned for release, with the others being AEW: Elite General Manager and an AEW console game that has not been named. Based on reviews of the company, the general manager release will be a simulation title, while the console game will be a combination of simulation and casino options.
Wrestling Themed Gambling on the Rise
Around the globe, there are millions of wrestling fans, and many of these people also enjoy wagering on casino games and sports betting. If you are looking for a social casino experience, AEW Casino: Double or Nothing is a super option. This game is designed to provide AEW fans the ability to play some classic games while interacting with other fans.
Even though this is a social gambling game, it has quickly attracted attention from gamblers worldwide. You will not win any payout while playing but can win AEW prizes and enjoy hours of thrills playing in tournaments.
For those that want an authentic casino experience, there are many options. Some of the best online gambling sites in the industry offer wrestling themed slot games, so there are some great titles available. Online casinos deliver portfolios from many providers, and they provide the chance to play hundreds of real money games in a secure environment.
If casino games are not quite your thing, check out the many sportsbooks online that offer wrestling betting. With these, you can wager on certain matches and can win some amazing payouts. Wrestling betting offers great odds, and you will find bookmakers offering betting options on leading events, like a main event Dream Match.
Want to take in a live wrestling match? There are many casino-themed matches and events that are scheduled. You will find that many land casinos in Vegas host wrestling events. You can watch the match and then head to the gaming floor to engage in some exciting action at the tables!
One of the great themed events is the AEW casino battle royale. This is a rumble-styled royale with 21 wrestlers. A deck of cards is used to select the time contestants will enter the contest. AEW continues to combine casino action with exciting wrestling with the release of Double or Nothing, but there are many other ways to engage in real money betting while enjoying both components!
Be sure to join our
WWE / AEW Discord server
and connect with other pro wrestling fans.
---