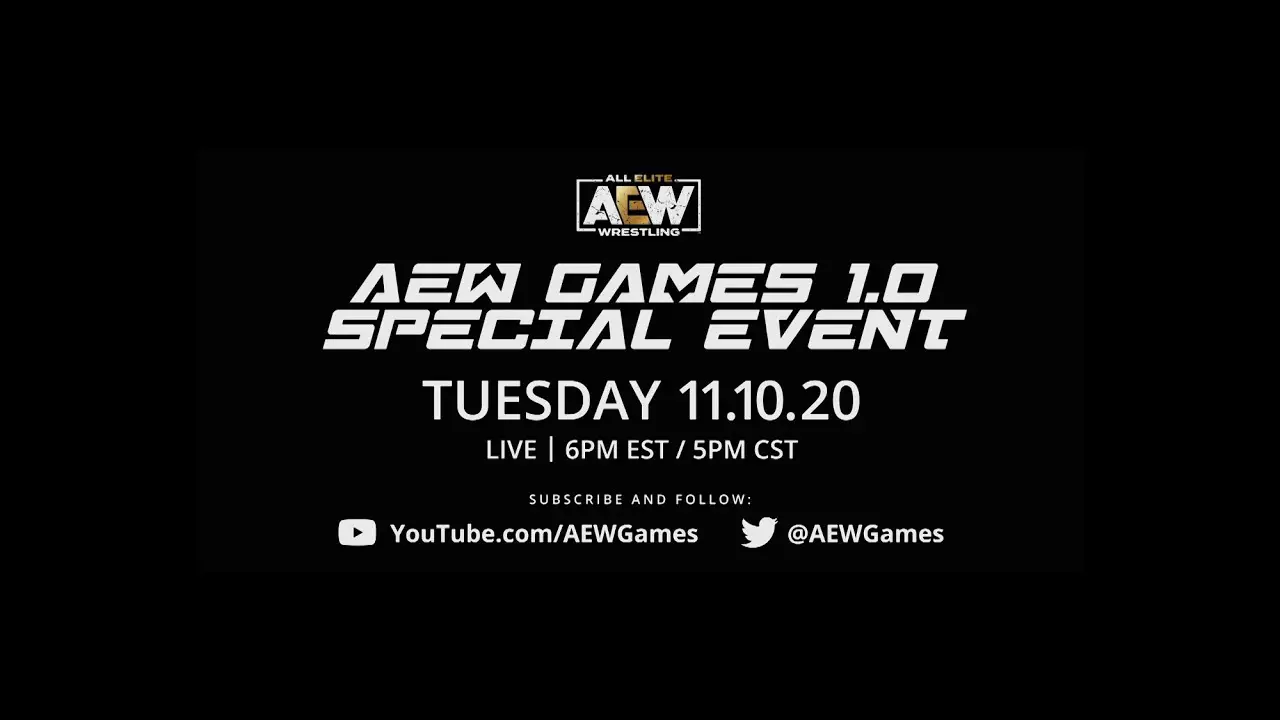 On 11th of November, AEW Games premiered their 1.0 Special Event and started their live stream premiere around 6:45 pm. What we could see and hear in this live stream is details about the AEW Double Or Nothing, with a sneak-peak at their beta version of the game. If you are interested in finding out more about the recent announcement of the All Elite Wrestling, stick around and check out the live stream recap below.
Anticipation-Packed Intro
Once the premiere started, Kenny Omega started his speech about the long-awaited 2 and a half years-long project. As something AEW has been waiting for this long, Omega claimed that the Double Or Nothing changed the expectations of the live wrestling audience forever. In October 2019 they premiered Dynamite on TNT which transformed wrestling for tons of wrestling enthusiasts all around the world.
The Main Idea Behind it All
The idea that was materialized was created mainly due to the global COVID-19 pandemic situation, and it was set to change the approach to wrestling. This sudden rise of the real money online casino sites, iGaming, esports and mobile gaming changed it all. Kenny Omega introduced AEW Games with a powerful slogan "AEW Reimagining Games". And wrestling fans definitely wanted to hear more about it.
Another great thing that was included in the presentation was the concept of it all, early footage of the Double Or Nothing. Comparing it to NFL Blitz and NBA Jam, Omega went on talking about the creative team assembled to develop Double or Nothing.
Something he described as a "Virtual Pro Wrestling" type of game should be available on all currently available and future consoles. And even if the footage displayed might not be what the final product will look like, All Elite Wrestling together with Future Media Creators Yukes believe it might be the greatest wrestling game of all time. It is still in early development stages, and all the other information including launch dates will be announced on AEW YouTube channel and Twitter page.
AEW Elite General Manager Mode
Aubrey Edwards, the American professional wrestling referee stepped on stage after Omega to announce more novelties. Even if she is a famous wrestling referee, Edwards has a background in software engineering and computer science. In addition, she used to work in the video game industry before, which makes her even more competent to speak about the matter.
In order to make the best mobile product, she assembled the best team of mobile software developers. Being a part of AEW Games as a referee was not enough, Aubrey wanted to be a part of this project. Aubrey Edwards then announced the AEW Elite General Manager mode for mobile devices.
Merchandise & Fun
The pun-filled comic presentation also included a short speech from Dr Britt Baker who is supposedly in charge of the video game t-shirts creation. Of course, a fun and relaxed way to promote the merchandise which can be purchased at their official webshop. And the scened and entertaining Kenny Omega interruptions didn't stop there.
Those who haven't watched the stream might want to know that Cody Garrett Runnels Rhodes, an American professional wrestler, businessman, and an actor appeared, too. If you are not too busy playing mobile games or looking for the best online casino Canada no deposit bonus, you can throw a glance at the video. This premiere is definitely not filled with boring content, unnecessary information, but rather with entertaining stuff.
AEW Casino Double or Nothing Mobiel Version
Cody Rhodes' appearance was not there only to make the wrestling fans laugh, he also announced AEW Casino Double or Nothing for mobile. Apart from announcing big project news, now AEW has something to actually give to their audience.
Finishing Up
As the stream is near its finish, Omega reminded their users that they have released two mobile products, and are working diligently on launching a console one. Their collaboration with Yukes and Hideki Iwashita is taking them one step closer to creating a great wrestling console game, and AEW is taking great pride in it all.
Be sure to join our
WWE / AEW Discord server
and connect with other pro wrestling fans.
---