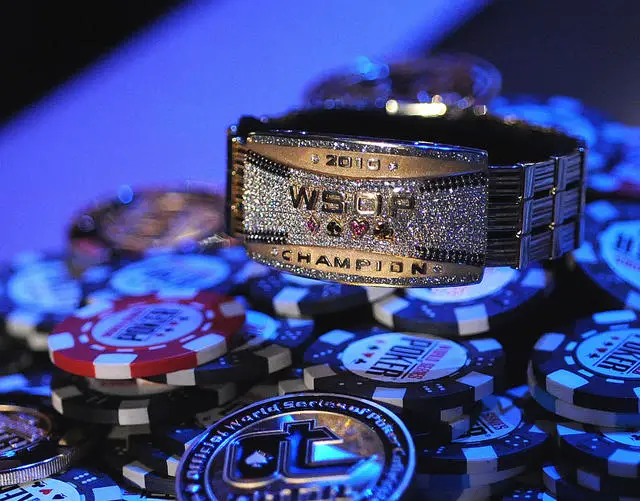 SOURCE: Photo, flipchip, CC BY-SA 3.0
At one stage, Dash Dudley was being tipped for future stardom in the world of wrestling and perhaps even as a prospective AEW contender. In 2004, Dudley was a key figure in the Michigan State wrestling team at college.
His father also wrestled at Michigan State in the late 1970s, which suggested that wrestling was in Dash Dudley's blood. However, he would go on to make a life-changing career decision to forge a path in the world of professional poker, foregoing the adulation and the glamour of big-time wrestling in favour of Texas Hold'em, before specializing in Pot-Limit Omaha and Omaha Hi-Lo. For several years, Dudley has shared his time between the land-based casinos of Michigan and visits to card rooms in Las Vegas and California.
That decision to pursue a living as a professional Texas Hold'em player was ridiculed and questioned by both his friends and wrestling teammates. Dudley, who studied in an Okemos high school before enrolling in MSU, could have opted to go down the corporate route and work his way up the career ladder or even forge a path in wrestling. Nevertheless, he is the one who is laughing now after picking up his first World Series of Poker (WSOP) bracelet in Las Vegas. During last year's WSOP in the heart of the Nevada desert, Dudley entered the $10,000-entry Pot-Limit Omaha eight-handed tournament and went on to claim first place and a cool prize purse of $1.086 million – his first seven-figure success since turning pro.
Entering a field of 518 players and being the last player standing is no mean feat. Large-scale multi-table tournaments are a genuine test of mental endurance. One of the main poker tips for beginners these days is to develop the mental stamina and capacity to continue to make good decisions in high pressure situations. In the post-tournament interviews, whilst clutching his first WSOP gold bracelet, Dudley said that he had spent considerable time honing his skills as a table short stack. Something that he felt gave him the edge heads-up against Briton James Park, despite holding the chip lead throughout much of the final table.
As the field was whittled down to the final three, including Dudley, Park and Australian Joel Feldman, Dudley crushed the latter by winning a crucial pot before subsequently knocking him out. It was pretty much one-way traffic with Park once Dudley inched ahead with their chip stacks beginning heads-up on an equal footing. The final table at the event included a host of seasoned professionals, including previous WSOP bracelet winner Jeremy Ausmus and Florida ace Kyle Montgomery. Dudley went on to dedicate his victory to his mother, who said that the "reason he plays cards is because of her".
Dudley's success on the Vegas Strip was no fluke. Just a few months later, he entered the WSOP Europe events in the Czech Republic and took down another eight-handed Pot-Limit Omaha event for almost $57,000. At the time of writing, Dash Dudley has racked up career poker earnings totalling $1.822 million, placing him eighth on the all-time money list among Michigan pros, behind the likes of former WSOP Main Event winner Jo Cada.
What is Pot-Limit Omaha?
Pot-Limit Omaha, known as PLO in the industry, is arguably the second most popular card game after Texas Hold'em. While most Texas Hold'em games tend to have a no-limit betting structure, Omaha operates in a more rigid way. The biggest difference between Texas Hold'em and PLO poker is that the latter gives you four starting cards instead of two in the latter. However, PLO players cannot use all four of these "hole" cards to create their hand; they can use only two of them.
Furthermore, as PLO is a pot-limit game, players cannot bet as much as they wish in the round of betting. Instead, players can only wager the current size of the overall pot, plus their call bet. The biggest thing that Texas Hold'em poker players normally have to get their head around is that their hand must contain three of the community cards dealt on the table – no more, no less. This means that it's not possible to spike a lucky flush or straight with a fourth heart on the turn or river. It forces PLO players to be more selective with the hands they play and it also makes it much harder to bluff to the river.
Previous connections between wrestling stars and poker
Skidmore, CC BY-SA 2.0
Caption: John Cena was a self-confessed poker fanatic
Former WWE champion John Cena admitted back in 2006 that he was hooked on the game of poker having watched a lot on television around the same time as the "boom" of poker online. Cena religiously watched the WSOP on television and credited the cult movie of Rounders for opening his eyes to the enjoyment of Texas Hold'em.
Cena said that the WSOP was a particular attraction for him given that it's "possible for a lesser-skilled amateur" to win even the biggest tournaments such as the iconic Main Event. Despite those comments, Cena has never yet entered the Main Event or indeed any other WSOP tournament. Instead, the 43-year-old focused on his eye-catching on-screen feuds with The Rock, CM Punk and AJ Styles and even at his veteran age he continues to make sporadic appearances in SmackDown. Cena remains an inspiration to most WWE newcomers and wannabees. Ethan Carter III was previously dubbed the successor to Cena's WWE throne, but he has failed to establish himself in the franchise and was recently tipped as a potential AEW recruit.
Be sure to join our
WWE / AEW Discord server
and connect with other pro wrestling fans.
---