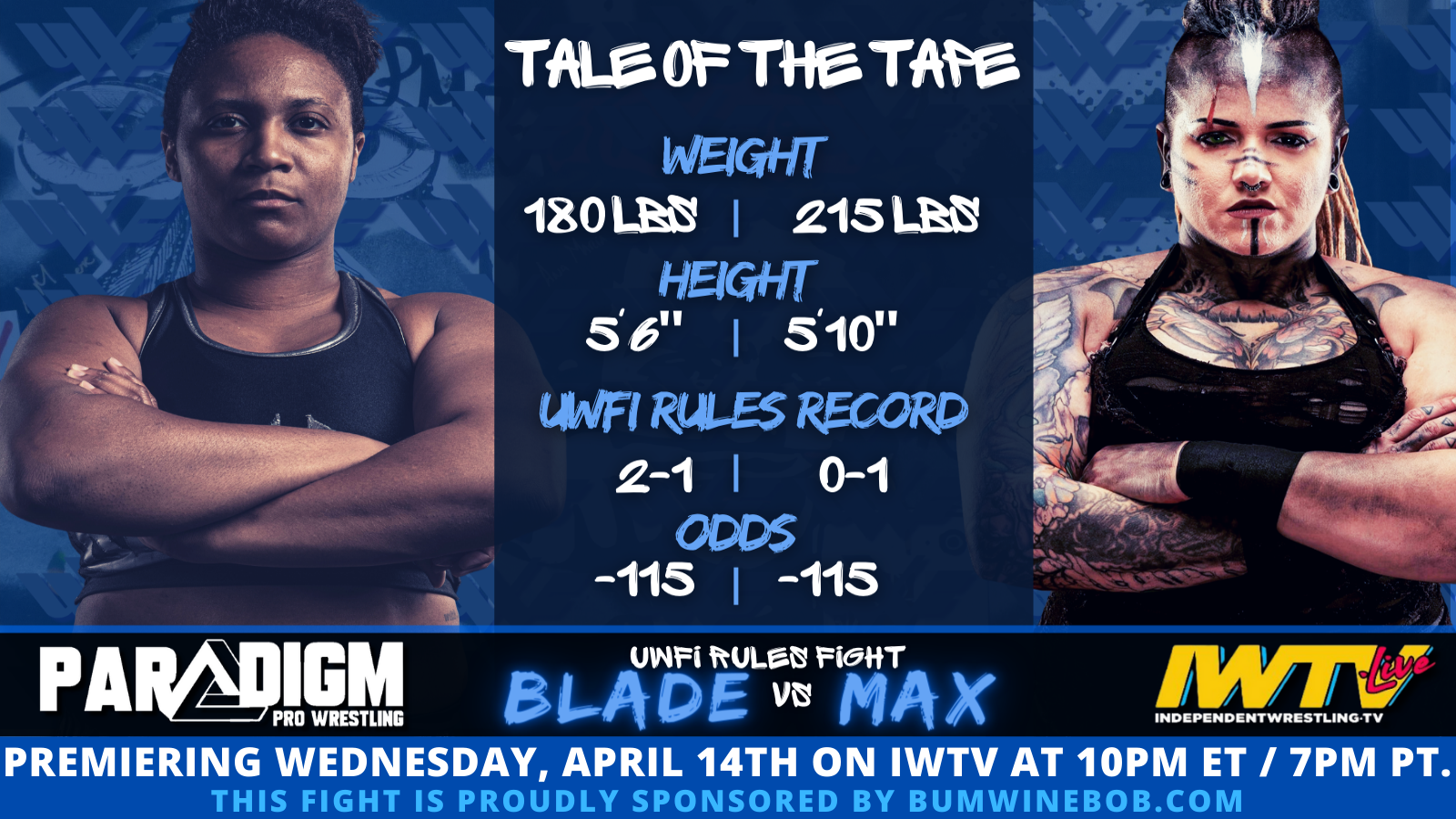 Non-binary competitor Max the Impaler will make their highly anticipated return to Paradigm Pro Wrestling this Wednesday, April 11th, when they face "The Ankle Breaker" Jordan Blade in the main event of a new episode of the UWFi Rules Contenders Series on IndependentWrestling.TV. 

Max (0-1 under UWFi Rules) brings a decorated background to shoot-style competition, having previously held the OVW and H20 Women's Championships. They also hold a power advantage in most fights, as outside of the squared circle, Max previously qualified for the U.S.S. National Strongwoman competition. 

Their opponent, Jordan Blade (2-1 under UWFi Rules), is also a powerhouse – having won numerous awards and medals in the field of powerlifting. In addition to being strong, Blade brings an extensive Brazilian jiu-jitsu background to the fight, giving her a reputation for being one of the most skilled submission fighters on the PPW roster. 

Max vs Blade will headline a six fight card, airing this Wednesday at 10PM ET / 7PM PT on IWTV. 

In the evening's co-main, New South Heavyweight Champion "The King's Road Slayer" Derek Neal (2-2 under UWFi Rules) will take on the debuting Ron Bass Jr. The son of multiple-time NWA titleholder "The Outlaw" Ron Bass, Bass Jr will have enormous size advantage in the fight, standing 6"4" and weighing in at 330 pounds. 

Another highly anticipated fight on the undercard will see "The UWFi Icon" Dominic Garrini (10-2 under UWFi Rules) face former three-time H20 Champion "Shooter Ronnie" Ron Mathis (1-2 under UWFi Rules). Although he is tied for the most UWFi Rules victories in Paradigm Pro history, Garrini enters the fight with a 2-2 record over his last 4 fights. 

In the evening's remaining preliminary contests, Yoya Shooterweight (1-2) returns after an impressive performance at Josh Barnett's Bloodsport to face former Indiana Golden Gloves Champion Flash Thompson (4-4), power striker Isaiah Broner (2-1) faces debuting jiu-jitsu and muay thai fighter Damyan Tangra, and Contenders Season One standout Austin Connelly (0-3) faces KOBK's Hardway Heeter (0-2). 

This episode was made possible through the sponsorships of The Grindbin Podcast, BumWineBob.com. PWPonderings.com, the Ohio Wrestling Alliance, the IWTV Guide Podcast, Dirty Bird 33 on Twitch, The Queen's Takeover Wrestling Podcast, United Pro Wrestling, The Wrestling Nerds Radio Network, The Uplift Ultra Youtube Channel, Super Saiyan Mutant Wrestling GIFs and Wrestling Simulator Mods, and the generosity of our IndieGoGo supporters.  

The UWFi Rules Contenders Series airs every Wednesday at 10 PM ET / 7PM PT on IndependentWrestling.TV, the world's largest library of independent wrestling. The streaming service IWTV is available for $10 per month on Roku, Amazon FireTV, Apple TV, iOS, Google Play and more. 

CLICK HERE TO ACCESS OUR DIGITAL PRESS KIT FOR THE UWFi RULES CONTENDERS SERIES – INCLUDES PHOTOS, EPISODE PREVIEWS, MATCH GRAPHICS, AND MORE. 
About Paradigm Pro Wrestling
Founded in 2017 and based in the Louisville, KY, metropolitan area, Paradigm Pro Wrestling (PPW) presents professional wrestling events with an emphasis on the shoot-style, hardcore, and high flying genres of the sport. All shows are filmed for international distribution on the IndependentWrestling.TV streaming network. PPW fighters have competed on the largest stages in professional wrestling and MMA including the WWE, UFC, All Elite Wrestling, Ring of Honor, Bellator MMA, EliteXC MMA, New Japan Wrestling, and Major League Pro Wrestling.
UWFi Contenders Season Two Complete Roster
UFC veteran Tom Lawlor, Bellator veteran Matt Makowski, MLW Star Dominic Garrini, Bruiser Brody Memorial Award Finalist Matthew Justice, Paradigm Pro Heavy Hitters Champion "The Hoodfoot" Mo Atlas, Brazilian Jiu-Jitsu Black Belt Dustin Leonard, Catch Wrestler Robert Martyr, Folk-Style Standout Nick King, Indiana Golden Gloves Champion Flash Thompson, former pro boxer Isaiah Broner, Death Match Sensation AKIRA, Submission Grappler Jordan Blade, Contenders Season 1 Standout Austin Connelly, former Paradigm Pro Champions Cole Radrick and Freddie Hudson, Virginia All-State Wrestler Yoya Shooterweight, 3x H20 Champion Ron Mathis, Former Collegiate Wrestler Alex Kane, multiple-time IWA-MS Champion Aaron Williams, Crux Wrestling Academy Founder Kerry Awful, Bareknuckle Fighter Lord Crewe, KOBK Member Hardway Heeter, British Chain Wrestler Sidney Von Engeland, MidwestTerritory.com Champion Chase Holliday, 20 Year Indie Veteran Appollo Q. Starr, 44OH Member Bobby Beverly, Muay Thai Kickboxer Lexus Montez, Son of a Legend Ron Bass Jr, Bulgarian native Damyan Tangra, Hardcore Wrestler Phoenix Kidd, and USS National Qualifying Strongwoman Max the Impaler.   
Be sure to join our
WWE / AEW Discord server
and connect with other pro wrestling fans.
---