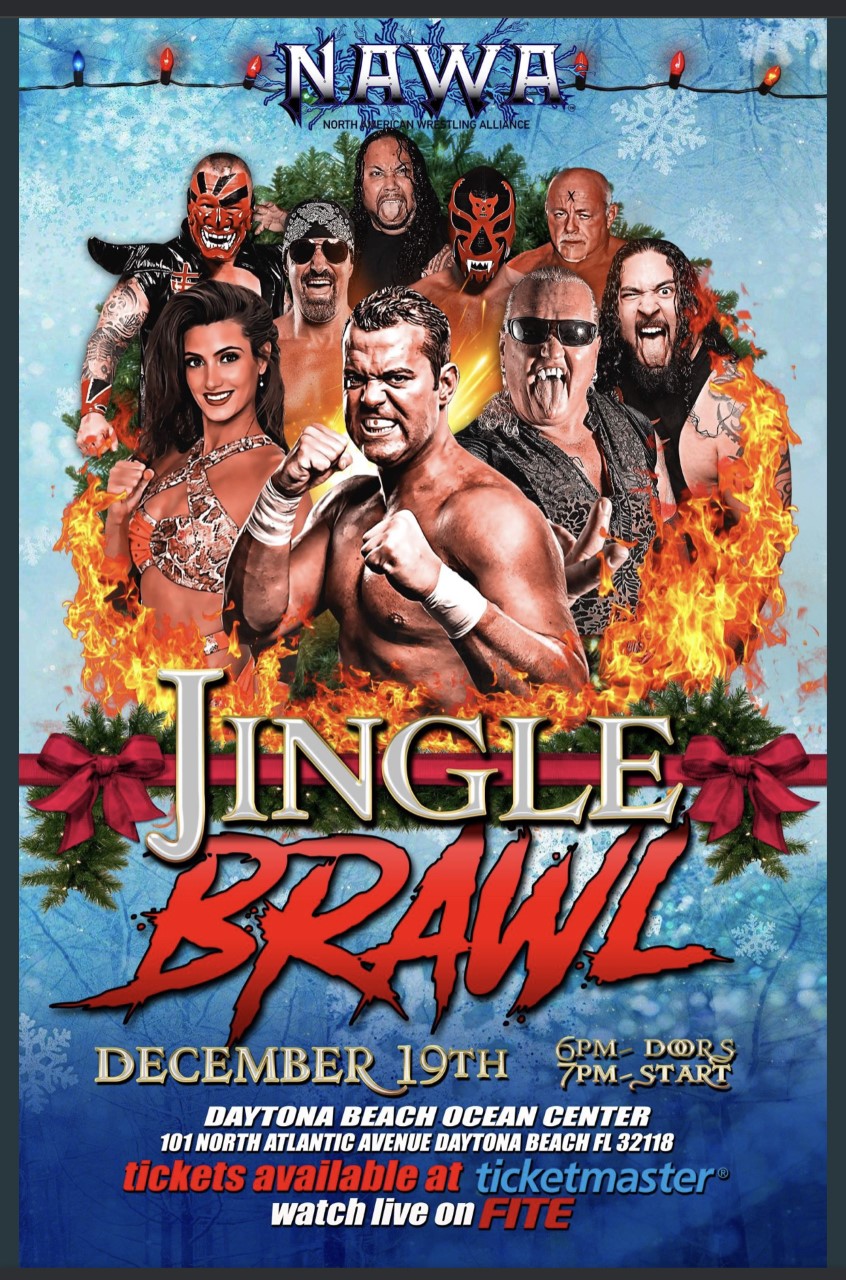 12/19/20
Ocean Center in Daytona Beach, Florida
Attendance: 150
By Ross Blair
After a 19-year hiatus, the New York-based North American Wrestling Alliance made its' return with this live event/FITE TV ppv. The show was highlighted by emotional tributes to two former NAWA stars: the late Bruiser Brody and Hercules Hernandez, complete with memorial belts presented to their widows. It also featured four matches to fill the vacant NAWA heavyweight, tag team, and women's titles. Every match was decent, and the tributes were first class.
1. Gangrel pinned "The Tokyo Monster" Kahagas in a good opener after an impaler DDT.
2. Micah Taylor (managed by "Mad Dog" Dan Sawyer) pinned Danny Inferno after a school boy (while pulling Inferno's tights) to become the new NAWA Intercontinental Champion. 
3. Cha Cha Charlie pinned Jackal after a good looking frog splash (while wearing his sombrero). Both were billed as members of the Coastal Championship Wrestling (Orlando, Florida) roster.
4. Roma Luchadora pinned Lindsay Snow to become the NAWA women's champ, which included an assist from Stormie Lee and her manager, Sean Davis. Fellow NAWA wrestler Marina Tucker, via the titantron, issued a challenge for Luchadora's title after the match.
Next up was the Brody tribute. Ring announcer David Penzer introduced the new NAWA commissioner Tony Atlas, who expressed his love for Brody and presented Brody's widow Barbara Goodish with a commemorative championship belt that included Brody's likeness. Goodish thanked the fans for remembering her husband 32 years after his death.
She said all Brody wanted to do was give the fans the best night of their lives and she respected the fans, who meant the world to her husband. She asked the fans to give themselves a round of applause for keeping his memory alive, and the fans responded with a "Thank you Brody" chant. A video then played on the big screen, which included many wrestlers singing Brody's praises.
Those interviewed were Ric Flair, Bret Hart, Undertaker, Jim Duggan, Haku, Billy Graham, One Man Gang, and Jake Roberts. This was very well done and very emotional.
5. In a three-way match for the vacant NAWA tag team titles, Francisco Ciatso & Logan Creed defeated the Modern Day Sharpshooters (Max Blaylock & James Creed) and Da House of Payne (Hakim Ali & Nick Payne with manager Chazz Moretti) when Logan pinned Ali.
6. "The Brazilian Destroyer" Vinicious (managed by Bill Alfonso) pinned Ariel Levy after a tombstone piledriver. Alfonso was great here. In an unintentional comedy spot, Fonzie went to pull the ref out of the ring to stop a pinfall, but both the ref's shoes came off. 
7. Davey Boy Smith Jr. pinned Johnny Swinger after a running powerslam. Solid match that included a lot of comedy from Swinger.
Atlas returned to the ring to introduce Hercules' widow Debbie Hernandez as well his children and grandchildren. Atlas said Herc was one his best friends on the road and has countless memories of working out, drinking beer, and talking all night long with him.  
Promoter Tony Capone also shared some memories, presented Debbie with a commemorative belt, and introduced a video package that included clips of Herc becoming the first NAWA champ in 1992. Another great memorial segment.
8. Former TNA/Impact Wrestling star Chase Stevens (who was super over) won "The Hercules Cup Battle Royal" to be crowned the new NAWA heavyweight champion. Participants in the 20-man royal rumble style match included Bull James, Beastman, George North, Leon Scott, Storm Thomas, and Leo Brien of the Dirty Blondes.
There was a scary moment when "Wildcard" Andre Holmes caught Bugs Moran, who was press slammed over the top rope by a huge wrestler called "The Bus". In doing so, Holmes was knocked out after hitting the back of his head on the concrete floor. After he didn't move for several minutes, he was stretchered out (off camera) by local paramedics. Thankfully, co-promoter Lou Reardon reports that Holmes is "fine" and apparently just got his bell rung.
An announcement was made for a return show on February 13th at the Dorton Arena in Raleigh, North Carolina.
Be sure to join our
WWE / AEW Discord server
and connect with other pro wrestling fans.
---