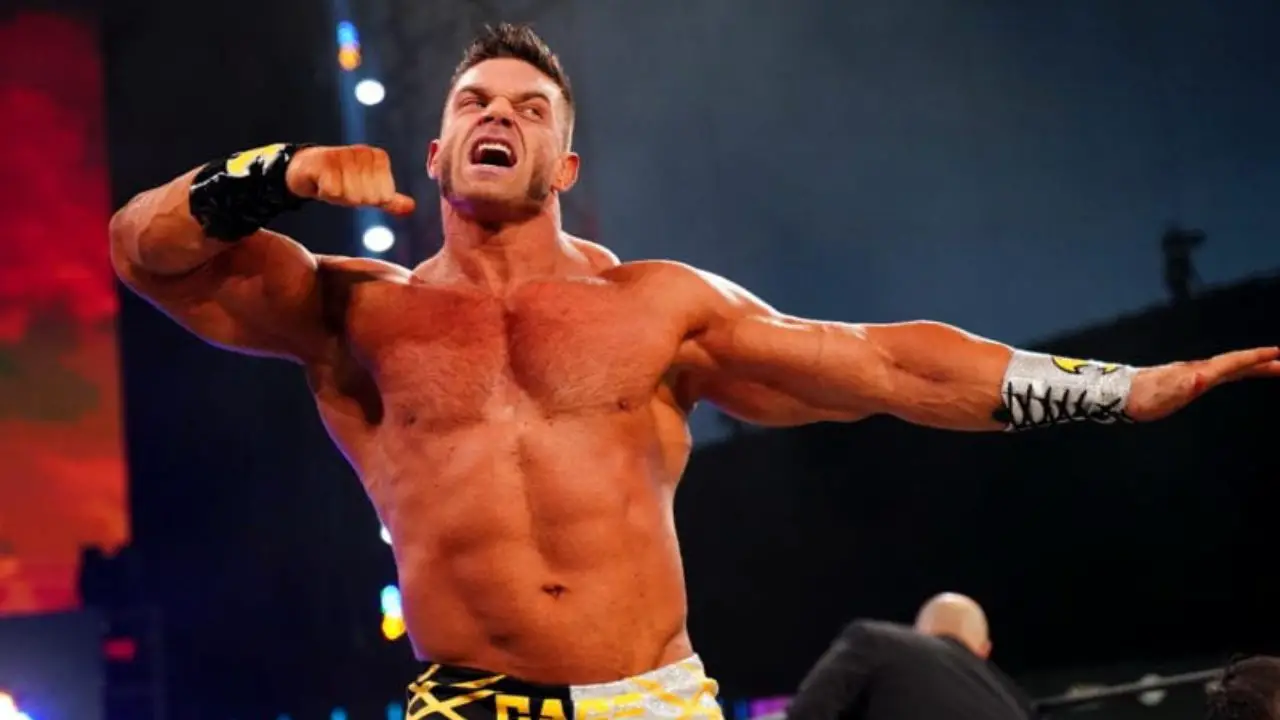 With his highly anticipated battle this Wednesday on Dynamite, Brian Cage's Twitter feed shows mostly re-tweets, but lurking above, his pinned tweet features a match of his, and perhaps it's one of his most treasured memories to date.
The battle on Wednesday against Ricky Starks has certainly garnered quite a bit of attention and many on social media are looking forward to the confrontation. Especially since Starks took to the ring last Wednesday on Dynamite and let Taz know just how badly he wanted out of Team Taz…or rather, hinted towards it.
Well, Brian Cage made his presence known in a quick minute decimating everyone in the ring.
Cage has been pretty tight-lipped about the whole thing. After all he has always been more of an Actions Speak Louder Than Words kind of wrestler, and that has served him quite well over the years. He did re-tweet about the match, an original tweet from AEW it was.
The only original content to be seen for a while on his Twitter page comes from the aforementioned pinned tweet, and it's been up there since March of 2019. It certainly leaves us to wonder what to expect on Wednesday.
If you watch the match in the link shared in the tweet, anyone can see that the match leaves little to be desired. No wonder why it's one of his favorites from his very own catalogue and Kanyon's. The amount of time that the tweet has remained pinned on his feed speaks volumes of how dear he holds the memory.
Kanyon, January 4, 1970 – April 2, 2010, spent most of his career in WCW, or is rather, more known because of his time there, and he definitely had quite a few memorable matches there. He ended up in WWE after WCW was purchased by Vince McMahon, but unfortunately the end of his career didn't go off as planned. He took his own life in 2010, shortly after his retirement and disillusionment with the world of professional wrestling.
But he and Brian Cage obviously crossed paths and in epic proportions it seemed, and with unfortunately little fanfare. But Cage seems to regard his memories from that time fondly, and in a sense he has sparked interest in his friend and idol, as he stated in the tweet.
The match was at a Katrina Benefit and it features a very young Brian Cage, and the match truly does display a magnificent side of Chris Kanyon, reminding us that he had the chops necessary to make it in the business, and could have probably made it even further than he did. He obviously had enough prowess in the ring to impress and inspire the likes of one Brian Cage.
So what can we expect from Wednesday's match on Dynamite?
AEW has been promoting the match considerably on Twitter, and the buzz is definitely gaining steam.
Cage has been offering up incredible moments since debuting on AEW TV—his career speaks for itself up until this point— as we have previously reported, and if we look to the match against Kanyon and his whole catalogue, one can certainly assume that AEW fans are in for a treat.