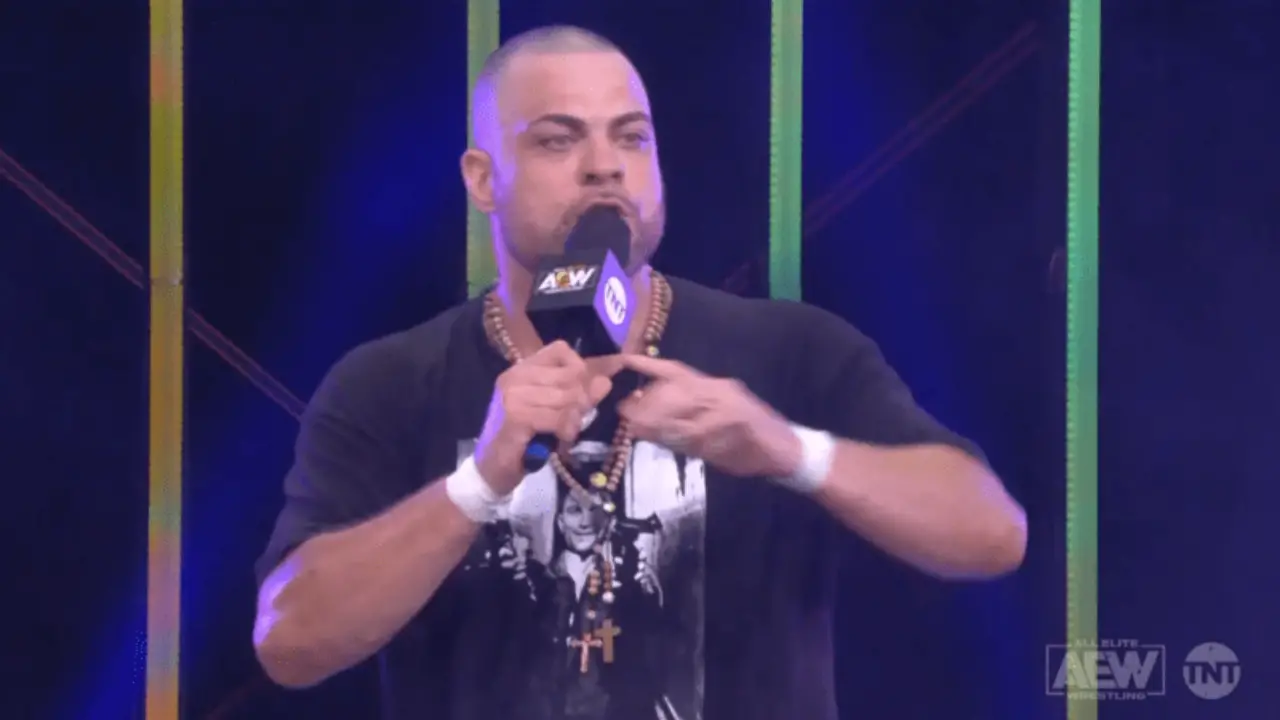 During an opening matchup of a recent episode of AEW Dynamite, which was a TNT Title Match Open Challenge wherein TNT Champion "The American Nightmare" Cody Rhodes put his TNT Title on the line, Eddie Kingston make his All Elite Wrestling debut.
This was after it was announced that TNT Champion "The American Nightmare" Cody will go up against a "top independent wrestler" and that wrestler ended up being "The Mad King" Eddie Kingston. Kingston impressed the powers-at-be of All Elite Wrestling and got signed by the company shortly after.
AEW fans as well as fans of Eddie Kingston shouldn't be worried that Kingston will turn up anywhere else, especially the WWE, as he spoke to Daily DDT and told them that AEW will be his "last stop."
This is what Eddie Kingston said:
"AEW's my last stop." "I'm not goin' anywhere else. I'm 38 years old and been doing this, actually is today October 12? Yeah, I been doing it 19 years today. I'm not goin' anywhere else, man. It's sink or swim with this company. I'm not gonna sink, I'll say that much. I won't sink, and I won't let the company sink."
"Everyone can say 'you're bein' a company man, you're sellin' out,' this and that. Hey bro, like I said, I was broke. I was broke durin' the pandemic. I paid off all my bills I could with the money I made in the UK before I came home, and after that, I was sittin' at home broke. I'm hungry, and I'm not gonna let anything stop me or AEW or put me in that situation again where I'm sitting in my house going, 'I may have to sell this.' I'm not gonna get myself in that situation again."
Eddie Kingston then said that he thinks he can wrestle for 10 more years.
This is what Eddie Kingston said:
"In all honesty, this is gonna sound crazy. I think I have 10 more years. Now I'm makin' a good chunk of change, let's just say that, and I'm able now to get massage therapy. I'm able now to go to the chiropractor. I'm able now to buy myself a sauna at home. I'm able now to, I just bought a thing for me to jump into ice. Now I'm able to do all that stuff. Back in the day it was stretch and hope for the best. Now that, like I said, I got the good chunk of change, I can take care of myself better. So right now, I think I can go another 10."

AEW TV RATINGS: Dynamite Finishes 33rd, NXT 67th, January 20th, 2021