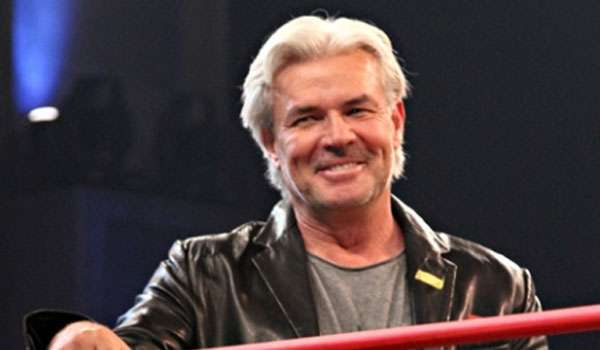 One of the greatest minds in the history of Pro Wrestling, Eric Bischoff, recently took to his 83 Weeks With Eric Bischoff Podcast and talked about the possibility of working with All Elite Wrestling if he was offered a position with the startup promotion.
This was Bischoff's response:
"That is such a hard question to answer. Obviously, any opportunity in a business that I have been involved in for the past 30 years would definitely pique my interest. So much of it depends on what I don't know. What are AEW's goals? What is their strategy? What are their plans? What are their 5-year business plans? I have learned the hard way that if you really don't have a plan that has been well vetted and really thought through the chances of being successful are minimal. I really don't want to be involved with something that is really not well planned."
Bischoff then talked about if AEW had a long term strategic and business plan that turned out to be great then maybe that is something he can be excited about as he loves creating things from scratch as well as the creative side of the business.
"With that being said, if it was well planned and there were a great strategy and a great business plan that made sense that I can relate to or identify with then of course," "Look, I may be 64 years old and may have been in the business for 30+ years but there is a part of me that is passionate about the business. I love the creative side. I love the strategy of building things from scratch so that is very appealing to me, but I really wouldn't want to get involved with something; whether it's AEW or something else. If it is not well-funded or if there's not a really smart business plan, the chances of it of being successful 5-10 years from now is really minimal. I really would have a hard time getting excited about something that wasn't thought through and there wasn't a solid plan. The flip side of that, if there was, oh hell yeah."
Bischoff was then asked if he could give any advice to All Elite Wrestling with their TNT Deal. Bischoff said that he has no idea what AEW's business plan is and he refuses to act smart and give advice to an organization he knows nothing about.
"I don't know what AEW's goals are. I have no idea. I have no idea what the AEW business plan is. I have no idea what their risk tolerance is. I have no idea what their Plan B is. I am just like everybody else watching, reading and seeing it. I refuse to try and sound like I am smart enough to give advice to an organization I know nothing about. I just don't." "In a macro kind of way, be as different as you can possibly be. It worked for me. It was my self-mandate when I started Nitro; don't try to be better than the competition, try to be different. Hopefully being different is enough to want to have people check you out, and I would stick with that."
You can check out the entire episode of the podcast by clicking here.
Be sure to join our
WWE / AEW Discord server
and connect with other pro wrestling fans.
---