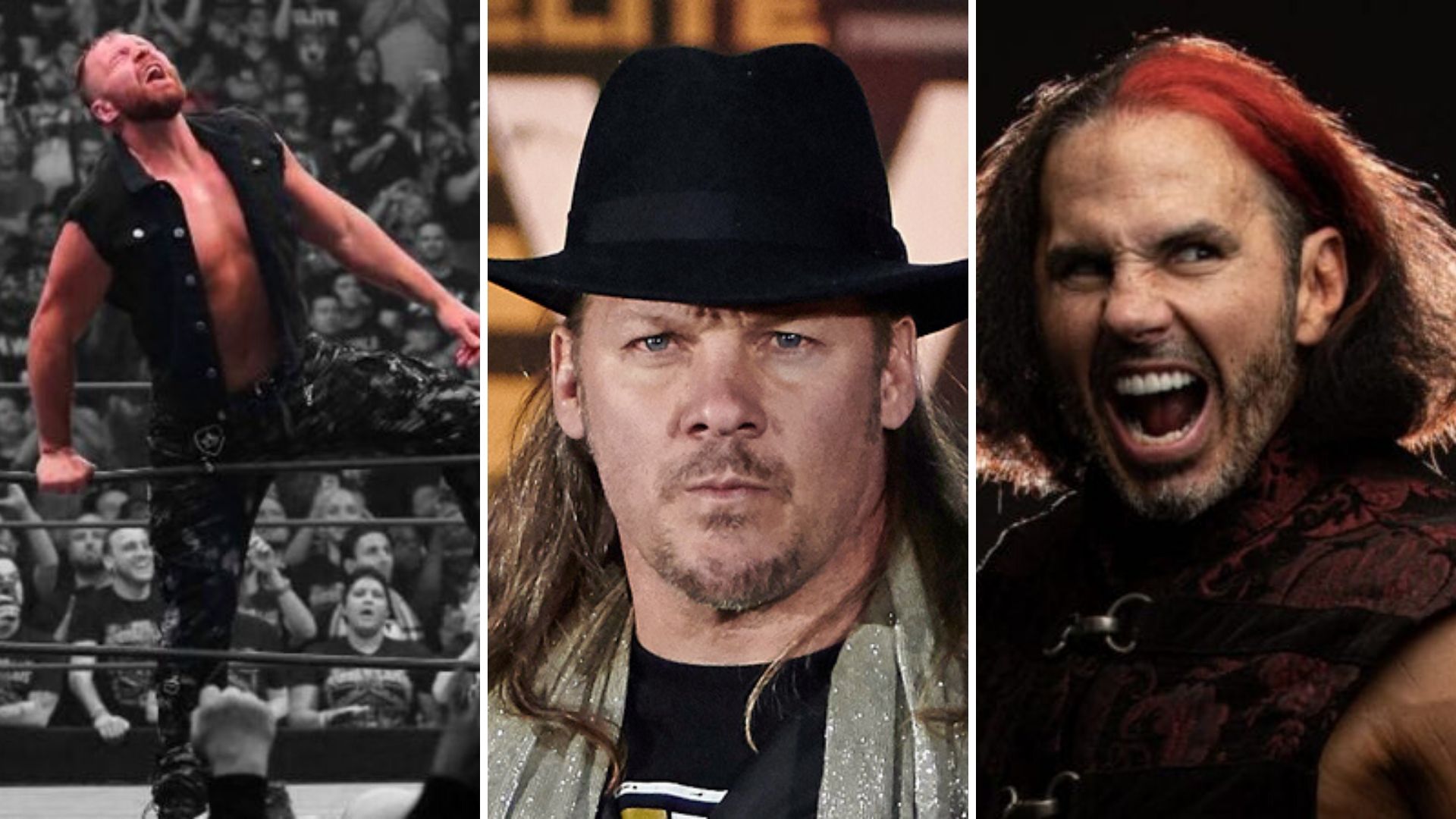 All Elite Wrestling is definitely out to make new stars but in order to do that, the powers that be have been wise enough to know you need established names in the industry.
That means AEW has on its roster a number of former world champions from major competitors WWE. It just so happens that these pro wrestlers held major singles gold before joining the company.
Chris Jericho
Inaugural AEW World Heavyweight champ Chris Jericho has helped to bring legitimacy to this promotion. The veteran Fozzy frontman also transcends wrestling with his band and even takes the grappling action on cruises with the Rock 'n' Wrestling Rager at Sea.
A real visionary, Y2J built his reputation overseas and then in ECW and WCW before signing with WWE in 1999. Jericho would go on to beat two of the Attitude Era's top stars in Dwayne "The Rock" Johnson and Stone Cold Steve Austin in the same night at Vengeance 2001 to become the first-ever Undisputed WWE Champion.
After winning six world titles and a plethora of other gold across three spells with WWE, he was one of first marquee signings for AEW. Jericho is currently leader of the Inner Circle faction.
Jon Moxley
From the first AEW World Heavyweight Champion to the second one, Jon Moxley – formerly known as Dean Ambrose in WWE – also held major singles gold for Vince McMahon. A member of vaunted group The Shield, Moxley saw himself given a sustained push alongside his fellow Hounds of Justice, Seth Rollins and Roman Reigns.
After cutting his teeth on the indys with promotions like FIP and CZW, Ambrose rose through the ranks of WWE and became world champ at Money In The Bank 2016. That night saw all three members of The Shield hold the company's top title after Reigns dropped the belt to Rollins and Ambrose cashed in the contract he had earned earlier on the card.
During his time in WWE, Moxley, nicknamed The Lunatic Fringe, beat Jericho to become AEW champ at Revolution in February. He looks set to remain a headline action following that and his brutal Lights Out encounter with Kenny Omega at Full Gear.
Matt Hardy
Recent AEW debutant Matt Hardy will always be known first and foremost as a tag team specialist with brother Jeff. The elder of the Hardy Boyz has also won WWE tag titles with MVP and Bray Wyatt and pioneered the TLC match along with Edge and Christian and the Dudley Boyz 20 years ago.
At Unforgiven 2008, however, he landed a championship scramble that saw him crowned with the ECW belt. Despite WWE's dreadful attempt at reviving that rival promotion they bought out in 2001, this still counts as a world title for Matt.
He was also a two-time TNA World Heavyweight Champion. Hardy is currently getting his Broken gimmick used in that promotion over in AEW, and a future match with Jericho looks to be on the cards.
Jake Hager
Bellator prizefighter Jake Hager is likely to head the MMA odds when he next steps away from the wrestling ring and into the cage. He may be known as Jack Swagger in WWE, but his gimmick in AEW is very different.
No longer The All-American American, Hager is combining both combat sports at once. There is no transition between MMA and pro wrestling which we've seen with Ken Shamrock, Brock Lesnar, Ronda Rousey and Shayna Baszler down the years.
Hager was ECW Champion after Hardy in WWE and cashed in his Money In The Bank contract on Jericho to win the World Heavyweight Championship on the SmackDown after WrestleMania XXVI in 2010. He is a legit threat in both MMA and AEW.
Pac
WWE's developmental brand NXT and its title have world championship status, so that makes Pac – called (Adrian) Neville when he worked for McMahon – another AEW star for this list who we've discussed here at Pro Wrestling News Hub. The Newcastle native has developed into a recognized name worldwide.
Pac is best known for his lengthy reign as Cruiserweight champ in WWE, but held the NXT title for much of 2014, having won the belt from Bo Dallas and dropped it to Sami Zayn. His high-flying style gives the English grappler common ground with young versions of AEW contemporaries Hardy and Jericho.
Be sure to join our
WWE / AEW Discord server
and connect with other pro wrestling fans.
---