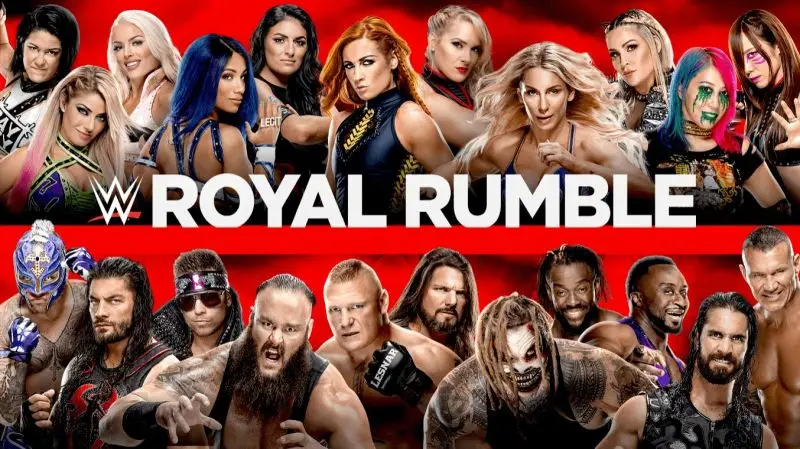 The road to WrestleMania 36 officially starts with the 2020 Royal Rumble, one of the most entertaining pay-per-views in WWE.
WWE Royal Rumble 2020 Card
Raw Women's Championship Match:
Becky Lynch (c) vs. Asuka
WWE Universal Championship Match:
"The Fiend" Bray Wyatt (c) vs. Daniel Bryan
Roman Reigns vs. King Corbin
Women's Royal Rumble Match
Men's Royal Rumble Match
Royal Rumble Match Rules
The rules are simple: 30 superstars will enter the ring, with two starting the match. Every 90 seconds a new wrestler will enter until the 30th participant has hit the ring. A superstar is eliminated when he or she goes over the top rope and both feet hit the ground.
Once 29 wrestlers are eliminated, the one that stands tall wins the match.
Betting Odds
Raw Women's Championship Match
Becky Lynch -300     
Asuka +200    
WWE Universal Championship Match
Bray Wyatt -600        
Daniel Bryan +350
Roman Reigns -300   
King Corbin +200      
Most Eliminations in the Men's Royal Rumble Match
Brock Lesnar +200    
Braun Stroman +250
Roman Reigns +300  
Drew McIntyre +400 
Keith Lee +800          
Big Show +2000
Men's Royal Rumble Match
The following names have been announced for the Men's Royal Rumble Match: WWE Champion Brock Lesnar in the No. 1 spot, Roman Reigns, Randy Orton, Drew McIntyre, Ricochet, Rey Mysterio, AJ Styles, Erick Rowan, King Corbin, Dolph Ziggler, Otis, Tucker, Elias, Aleister Black, Buddy Murphy, Rusev, Bobby Lashley, R-Truth. There are currently 12 open spots.
What Should Happen
Drew McIntyre should win this match unless CM Punk somehow returns. McIntyre has been on fire in recent weeks and he has it all: star power is technically sound in the ring, incredible on the mic and has charisma in abundance. He's been getting a push as a tweener and he would be a credible contender for Brock Lesnar. Not to mention that it would be a fresh match with a lot of potentials, as both men can go in the ring.
Drew McIntyre On Being Himself In WWE #DrewMcIntyre #WWE #RAW #WWERAW #SmackDown #SmackDownOnFox #Wrestling #ProWrestling #News #Bodyslam https://t.co/FwxaDL1LwH via @BodyslamNet @BodySlamDotNet

— BODYSLAM.NET (@BodyslamNet) January 20, 2020
If CM Punk comes back, he should win this match, unless he doesn't actually participate and just returns to eliminate someone. Possibly Seth Rollins to set up a feud for WrestleMania? It may not happen but let me dream!
What Will Likely Happen
Roman Reigns will probably win this match… WWE (Vince McMahon) NEVER learns! Reigns should not main event any more WrestleMania's. Enough is enough! You have a roster full of talented wrestlers who deserve the opportunity to shine in the spotlight. Almost any alternative is better but like Thanos, Reigns is inevitable and he might be the one who challenges "The Fiend" Bray Wyatt for the WWE Universal Championship at WrestleMania. 
Pick: Drew McIntyre +700. I just hope that someone gets to Vince McMahon and convinces him to give McIntyre a chance. I like the price he has at BetOnline, make sure to read their review on SBR.  here and this has to be his year.
 Women's Royal Rumble Match
The following names have been announced for the Women's Royal Rumble Match: Charlotte Flair, Sarah Logan, Alexa Bliss, and Nikki Cross. There are currently 26 open spots.
What Should Happen
I have three superstars who should win the Women's Royal Rumble Match: Sasha Banks, Kairi Sane, and Io Shirai. Here's why:
Sasha Banks winning makes perfect sense because she would challenge her best friend Bayley for the SmackDown Women's Championship and finally give us a proper feud between them on the main roster. Their matches in NXT helped put women's wrestling back on the map and Bayley's heel turn and current championship reign have been disappointing. Make Banks win this match and slowly create tension between her and Bayley until Banks officially challenges her!
Kairi Sane is one half of the WWE Women's Tag Team Champions with Asuka and if her Kabuki Warriors partner can challenge for the Raw Women's Championship, then Sane can get a well-deserved win. Her in-ring work is unmatched, she has charisma, looks good and her promos are entertaining, even if they're mostly in Japanese. How would this work? Make Asuka win the Raw Women's Championship and tease tension between Sane and her or make her avenge Asuka if she loses to Becky Lynch. Having Sane win this Championship only to be betrayed by Asuka down the road could also work.
Io Shirai would be an unexpected winner but wrestling needs more of that! Shirai, like Sane, is ultra-talented and has it all, she deserves to get her first Championship in WWE. He could win and challenge Rhea Ripley for the NXT Women's Championship, although this is not likely… or she could go to Raw or SmackDown. Potential Shirai vs. Asuka or Shirai vs. Lynch matches at WrestleMania would be awesome! I don't see it happening but this is my wishful thinking.
What Will Likely Happen
Knowing WWE, Ronda Rousey or Shayna Baszler will win. Both have unfinished business with Becky Lynch, especially Rousey and while Baszler deserves a one-on-one match with Lynch if I had to choose between one of them to win I would give the match to Rousey so we get the match we were supposed to get at last year's WrestleMania. I still don't get why they had to add Charlotte Flair.
Pick: Sasha Banks +1200. I can't believe that we can get Banks at +1200. I'll take it!
Be sure to join our
WWE / AEW Discord server
and connect with other pro wrestling fans.
---